By Nick DiCarlo, Dallas Parks Foundation
Skateparks for Dallas is a true skater-driven initiative. Dr. Clinton Haley, who skateboards with his children, has spearheaded this effort directly with skaters, city council members, and the Dallas Parks Foundation. I came to the project as a new member of the Dallas Parks Foundation, and with no personal skating experience.
I recently attended my first skateboard contest, and was so impressed with what I saw in Dallas.
1) Amazing Skaters
It's one thing to see an athlete on TV, it is another thing entirely to watch the competition from the front row and see the skills within arm's reach. I saw seemingly every trick in the book, on a sunny afternoon, a bike ride away from my house.
2) Everyone SKATES
At my first skate competition, I watched boys and girls from all walks of life, as well as adults of all ages at the skate competition. Skating is a sport that has grown with society, from older people (50+) who kept up with the sport since the 60's, to teenagers, and they all came out to cheer and ride.
3) Get Up & Try Again
Seeing the competitors practicing their skills over and over again was like peering behind the curtain. This experience reminded me of the dedication required to achieve mastery in any skill, from guitar to math. Seeing a talented performer can seem like magic, until you get a glimpse of the hours and years of practice and the accompanying bumps and bruises to body and ego that it took to get there. This picture is the contest's eventual winner.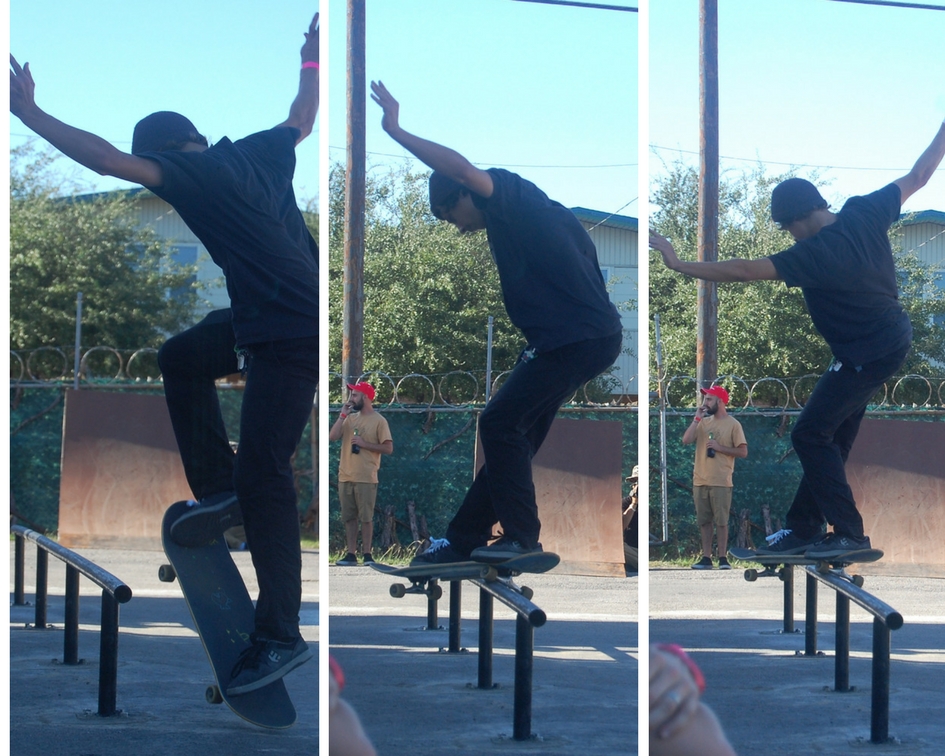 One of many successful tricks during the competition
4) Positive Competition & Community Spirit:
The contest itself was self-organized by the Dallas skate community. That so many skaters came out to compete showed the dedication to self improvement and the close knit nature of the community. And the competition was open, with skaters of all levels. Score was kept and points tallied were consistent with the quality of the skating, but everyone was treated with sportsmanship, cheers and applause throughout.
Everyone in Dallas Benefits from a High Quality Public Skatepark
A high quality skatepark is included in the November 7, 2017 Bond Election, as part of Proposition B. Parks are very important for cities, and a skatepark is an investment in the community, and the passion exhibited by regular people who are striving to be extraordinary the way we all do, through hard work and practice. Even though most of us are not skateboarders, we can appreciate those qualities when they are so apparent and a skatepark helps attract & retain them in our city.